We carry a large range of spare parts for all types of pumps including Snort Pumps, Flygt, Gorman-Rupp and all other major pump brands.
Mining Pump Service & Repair
We understand that you do not want downtime. We strive to have all pump repairs and services finished quickly and professionally by one of the best service teams in Australia. We also do electrical rewinds on the premises.
Expert mining pump suppliers, contact Prestige Universal Mining Pumps for all your Mining Pump needs. From brand new Mining Pumps, hire or maintenance of existing pumps.
Quality pumping solutions from Prestige Universal Mining Pumps can back you up all the way with pump sales and parts, Electric motors and rewinds. P.U.M.P. also carry a great range Mechanical seals.
Welcome to Prestige Universal Mining Pumps
Welcome to the home page of P.U.M.P., premier mining pump suppliers in Australia. Established in 2005, our aim is to provide the best sales, service, price and advice on mining pumps in Australia.
Our head office is located in Kalgoorlie, with branches and distributors located across the country, we are ideally located to serve the Australian mining sector, as well as having the capability to export globally.
Mining Pump Manufacturers
P.U.M.P. manufactures and supplies our own range of high-quality Force pumps designed specifically for Australian conditions. Hand built in Australia, our Force pumps are completely compatible with the Flygt® BIBO range of pumps and come with performance reports from our in-house test facility, which show up to 50% cost savings compared with some of our competitors.
Total control of our product manufacturing enables greater quality control and lower costs, which we pass on to you. We are the only true manufacturer of the Force 15 (Snort Pump) and the only pump company offering in-house rewinding and servicing for electrical motors up to 400kw. We also service vent fans, agitators, and dual voltage stators, upon request.
The wide range of pumps we manufacture ensures that we can supply pumps that are well suited to various applications within the industry. The adaptability of our pumps ensures your business receives exceptional value for money.
In the mining industry, pumps are commonly used for mine dewatering purposes. To ensure our pumps are suitable in this area most of our range consists of fully submersible pumps. These submersible or slurry pumps can be used in open cut mines, underground mines, and quarries.
If your mining pump application is unique, we can also cater to your needs with a specific industrial mining pump solution.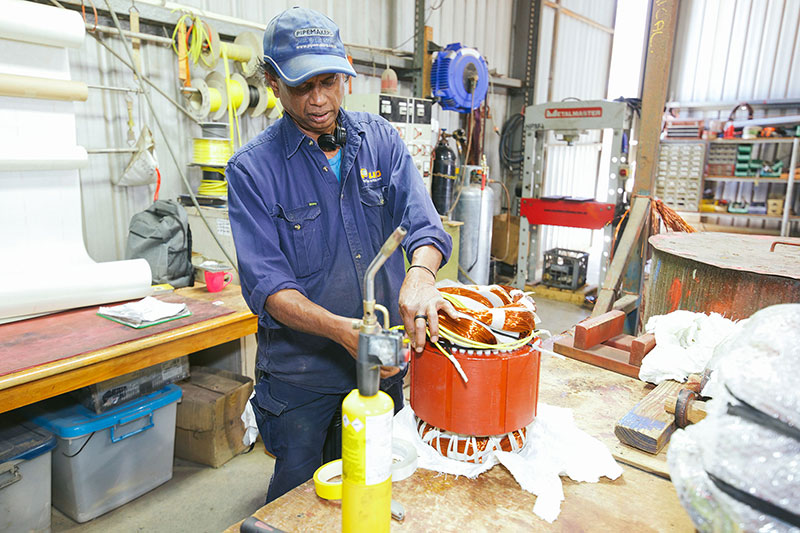 Why Choose Prestige Universal Mining Pumps
P.U.M.P. is the preferred supplier of pumps and pump repairs for much of the mining industry, with our low costs, outstanding reliability, and excellent service. We have consistently proven we can provide savings of 50% across the board for service and supply of parts and pumps for underground and surface dewatering. In recognition of this, we have been awarded contracts for numerous mining sites, many of which have been renewed several times since commencement.
We are available and on call 24 hours a day. After hours calls are automatically diverted to our ON-CALL mobile. For all other enquires, please get in touch via our contact page.
Frequently Asked Questions
Prestige Universal Mining Pumps currently operates from three locations across Australia.
Prestige Universal Mining Pumps proudly services the state of Queensland from our Townsville location.
Kalgoorlie – Goldfields – Esperance